About AAFM
Latest Press Releases
AAPM Silicon Valley University of California Alliance
January 29, 2009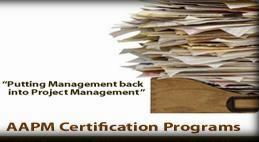 University of California Silicon Valley Awarded Prestigious Chapter Membership and Recognition from Key International Project Management Organization
CUPERTINO, Calif.--(BUSINESS WIRE)--UCSC Extension in Silicon Valley, (ucsc-extension.edu) a continuing professional education division of the University of California, announces that it has been awarded the rare distinction of full chapter membership and is now a certified training partner of the American Academy of Project Management.
As the only university in Northern California and one of only three institutions in the state to have been granted this designation, the distinction further validates the Project and Program Management (PPM) Certificate program at UCSC in Silicon Valley as one of the finest in the country. "We do not offer chapter recognition very often," said Prof. Dr. George Mentz, General Counsel and Director of New Alliances for AAPM. "But after analysis, this program ranks among those of the highest level, for several reasons - including proximity to Silicon Valley, and the excellence of its instruction."
The AAPM TM is an international graduate board offering the Master Project Manager (MPM TM) and Certified International Project Manager (CIPM TM) certifications to qualified applicants who meet rigorous requirements in education, training, experience, industry knowledge and ethics. The credential recognizes those project managers who both excel professionally and continue to expand their knowledge base with advanced training.
"I'm absolutely delighted to receive this new designation," said Michael Taylor, Coordinator of the PPM program at UCSC Extension in Silicon Valley. "This confirms that what we're teaching to potential and actual project managers is not only current, but directed toward practical application, and not high theory content that they can't use."
The graduate PPM Certificate at UCSC Extension in Silicon Valley is a Bay Area exclusive offering. The PPM Certificate is also recognized for graduate-level credit toward Master's degrees in project management from leading national universities as well as the AAPM certifications.
"Because our PPM Certificate Program has been so successful providing practical project management skills that can be immediately applied, many students are asking for a higher level of instruction," said James Desrosier, Executive Director of Business and Management Education at UCSC Extension in Silicon Valley. "To meet this demand, an Advanced Applied Project Management Certificate has been approved and it is targeted to launch this summer."
About UCSC Extension in Silicon Valley:
Serving the South Bay for nearly three decades, UCSC Extension in Silicon Valley is the continuing and professional education arm of the University of California Santa Cruz. With 1400 courses in 43 disciplines and over 17,000 enrollments annually, Cupertino-based UCSC Extension is the region's largest provider of advanced training for working professionals.
More than 250,000 alumni have benefitted from cutting-edge programs at UCSC Extension in Silicon Valley, with courses explicitly tailored to serving the needs of local industry. Instruction is targeted at working adult professionals, with 85 percent of the student population already holding Bachelor's and advanced degrees. Instructors are accomplished practitioners from name-brand companies-skilled at teaching in a collegial, student-centric learning environment.
Program content is graduate-level and application-oriented, providing knowledge that can be immediately put to work on the job. Offerings include a combination of degree credit, professional credit, credentialing and re-certification programs in business and management, engineering and technology, applied natural sciences, and education. For more information: ucsc-extension.edu.
Contact:
UCSC Extension Barry Salberg, 408-861-3876 bsalberg@UCSC-Extension.edu
http://finance.yahoo.com/news/UCSC-Extension-in-Silicon-bw-14129025.html
http://www.forbes.com/feeds/businesswire/2009/01/22/businesswire119452208.html
http://news.morningstar.com/newsnet/ViewNews.aspx?article=/BW/20090122005959_univ.xml
Press Releases For 2009
Date
Press Release
2009-01-29
AAPM Silicon Valley University of California Alliance
... [ Read More ]
2009-01-22
AAFM Training India and China BLB BIFM Institute of Financial Markets
... [ Read More ]