About AAFM
Press Releases for the year 2007
New AAFM China Training Consulting Offices
October 15, 2007
Prof. Baring
Prof. Baring under the supervision of AAFM China opened new consulting offices in Zhuhai, China this year. From this new office, AAFM Training will continue to offer Chapter Services Consulting to the leading banks and financial institutions in Hong Kong, Maccau and Mainland China.
The AAFM Board of Standards has worked to assist major institutions and employees from firms such as: Reuters, HSBC Bank, China Construction Bank, Bank of Communications, AIA Beijing Co., ICBC Dalian Branch, Citic-Prudential Life Insurance Co. Ltd., DRYVIA(CHINA), Hangzhou Hongyi Culture Development Co. Ltd., Jinxin Securities Co.Ltd., CATIC, PingAn Insurance Co. Ltd., Shangyang Electronic Co. Ltd., Citic-Prudential Life Insurance Co. Ltd., ICBC Xidan Branch, and many more.
China Private Banking and Wealth Management Forum
October 9, 2007
December 5th & 6th Beijing China
The China Private Banking and Wealth Management Forum is by far the China's leading private banking and wealth management annual event gathering in terms of policy makers, content, and audience interaction. It is for these reasons that China Banking Association and REX Events & PR in association with China national & world foremost media are once again proud to present 2007 China Private Banking and Wealth Management for the 2nd year running in Beijing with a bigger expanded programme to highlight the emerging trends and issues, this year event brings together private bankers and related wealth management professionals to debate current trends and establish industry best practices whilst China is fast becoming the prime hub for Asian and global wealth management. The most popular private banking and wealth management event will provide the ideal professional environment for sharing industry best practices, matching business needs and expanding one's network.
http://www.privatebankingforum.com or http://www.aafmchina.org
AAFM South America and Latin America
September 29, 2007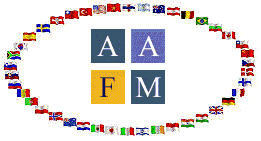 AAFM Latin American Mexico Brazil Chile Argentina
Articulations with AAFM Expand in Latin and South America - AAFM Sponsored Conference
During the AAFM Sponsored conference in Monterrey, Mexico. Prof. Roberto Santillan who is President of Latin and South American Chapter Operations met with Prof. George Mentz and 50 other Finance Leaders in South America.
Through these discussions, new chapters will be opening in Chile, Argentina, Venezuela, Brazil, and Columbia.
The Vice Chairman of the Federal Reserve Bank of Mexico and the Chairman of the Finance Department of the University of Texas spoke at the AAFM Sponsored conference. Papers were presented in several languages.
Press Releases For 2007
Date
Press Release
2007-10-15
New AAFM China Training Consulting Offices
... [ Read More ]
2007-10-09
China Private Banking and Wealth Management Forum
... [ Read More ]
2007-09-29
AAFM South America and Latin America
... [ Read More ]
2007-06-26
PERVASIVE LEARNING SOLUTIONS TO INTRODUCE CERTIFIED PROJECT RISK MANAGER PROGRAM IN CONJUNCTION WITH BUSINESS MANAGEMENT CONSULTANTS AND DET NORSKE VERITAS
... [ Read More ]
2007-06-01
CERTIFICATION CEREMONY OF AAFM'S FIRST EXECUTIVE TRAINING PROGRAM FOR FINANCIAL PROFESSIONALS IN KUWAIT
... [ Read More ]
2007-03-27
AAFM Signs Agreement to Deliver Healthcare Finance Training Programs in the Middle East in Presence of Minister of Health, State of Victoria, Australia.
... [ Read More ]
2007-01-10
Prof. Mentz appointed to Global Finance Forum in Switzerland
... [ Read More ]
2007-01-04
Wall Street New York Offices
... [ Read More ]
2007-01-01
AAFM Programs from The RSOF 2007 Miami * Sao Paulo * Toronto * Quebec * London
... [ Read More ]